INFO BEKRAF 2019
Date Posted : 09/07/2019
The Creative Economy Agency (Bekraf) again held the Bekraf Game Prime event to showcase games by developers from the country, while at the same time embracing gamers from the country. Dozens of local Indonesian game developers are called to take part in this event to showcase their latest games. The event, which took place at Balai Kartini, Jakarta, will be held for two days on 13-14 July 2019. With the theme "Game is the Future of Sport, Entertainment, and Business", Bekraf Prime Game 2019 is expected to attract more visitors than last year which recorded a presence of 16,000 during the event. This year is the fourth time Bekraf Game Prime is held as an annual event.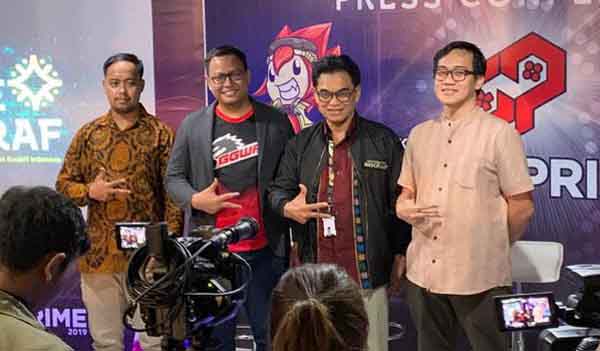 This event was also supported by INSIDEA Network, GGWP.id and the Indonesian Game Association (AGI). The 2019 Prime Game also holds an E-sports tournament involving 8 professional and semi-professional teams, who will compete in the Clash of Titans game competition. There is also a special area for visitors to try out Augmented Reality (AR) based games and Virtual Reality (VR) games. In addition to digital games, Bekraf Game Prime 2019 also presents various board games created by Indonesian designers, along with toys and action figures from various communities and producers.
BEKRAF 2019 Prime Game will be held for three days, Business Day on July 12, 2019 at the Ayana Midplaza Hotel, Jakarta and Public Day for two days (13 and 14 July 2019) at Balai Kartini, Jakarta.
Public Day will carry the exhibition concept, where thousands of visitors will be invited to play games in hundreds of available booths for two full days. Here are some content on Public Day.
Indonesian Game Developer Showcase
This is the time for you to know more games made by domestic developers. Yep, BEKRAF Prime Games 2018 will present dozens of cool games that you can play. Not only that, for those of you who are interested in going into the gaming industry, you can take advantage of this moment to learn from the game developer directly!