[RON] The Undeniable War in Crow's Perch
09 Maret 2021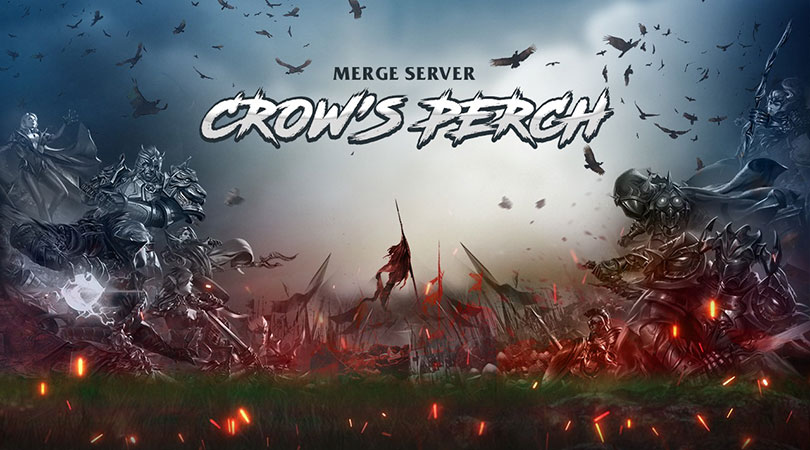 CROW'S PERCH will be the name for the new merge server in the next update. Finally, your deepest desire to battle with all legends from 4 servers is going to be fulfilled!
No more hold-up, fight all out till the last drop of blood to defend your camp from the enemies accross your camp. Bring your strongest allies and be victorious against your sworn-enemies, hunt them in every map!
Are you ready for one last ultimate battle between Light versus Dark?
NEW UPDATE
Date: March 9th, 2021 (after maintenance finish)
CELEBRATION FESTIVAL MISSIONS
10 times of monster killing - TWISTED KING
10 times of monster killing - SOUL STEALER
10 times of monster killing - VOLCANO KING
Spend 2,000 Blue Diamonds
Minimal Top Up - $10.99 (in the event duration)
REWARD: Pioneer Wing (new release)
---
ITEM DISCOUNTS
Rare items will be sold in much cheaper price in the MALL, with a limited capacity and only at specific time each day!
DISCOUNT 60% (from the original price)
Crate Gold (500) - 360 Diamonds
DISCOUNT 50% (from the original price)
Purple Signet Bag (1,000) - 50 Diamonds
Book Camp Switch* (10) - 1,500 Diamonds
Badge: Dungeon (10) - 50 Diamonds
S Lucky Scroll (100) - 30 Diamonds
DISCOUNT 40% (from the original price)
Skin: Frost (100) - 840 Diamonds
Skin: Oath (100) - 780 Diamonds
Safety Scroll (1,000) - 60 Diamonds
DISCOUNT 30% (from the original price)
Fodder C (5,000) - 70 Diamonds
---
SPECIAL LOGIN (7 days reward)
Day 1 - Purple Signet Bag (50)
Day 2 - Fodder C (50)
Day 3 - Beast Stone (50)
Day 4 - Skin: Goblin (10)
Day 5 - HP Syrup B (20)
Day 6 - Polishing Potions Pack (1)
Day 7 - Eternal Wing (1)
---
NEW LUCKY WHEEL
Small EXP Potions
Guardian Feather
Fodder C
Lv.100 S-Weapon
Forging Soil Crystals
Forging Ice Crystals
Forging Ice Sources
Lv.100 S Bracer
Lv.100 S Ring
D Random Gem
Lv.100 S Clothes
White Feather
Dream Feather
AVALON
---
GVG RUMBLE TOURNAMENT
"War does not determine who is right - only who is left."
After the merge server, you will have to make a party with at least 5 members from each guild (maximum of 10 players in a team) to reach the limit BP of 5.000.000 per team. The sooner you form a party, go buy the TOURNAMENT TICKET exclusively through PNP!
Remember that each team must only consists of two characters in same class. So, in a team of 10 members, there will be exactly 2 Archers, 2 Warriors, 2 Priest, 2 Mages, and 2 Assassins. It would be a tight and massive battle!