Cosplay Makeup Tips: An Artistic Way to Portray the Character
29 March 2022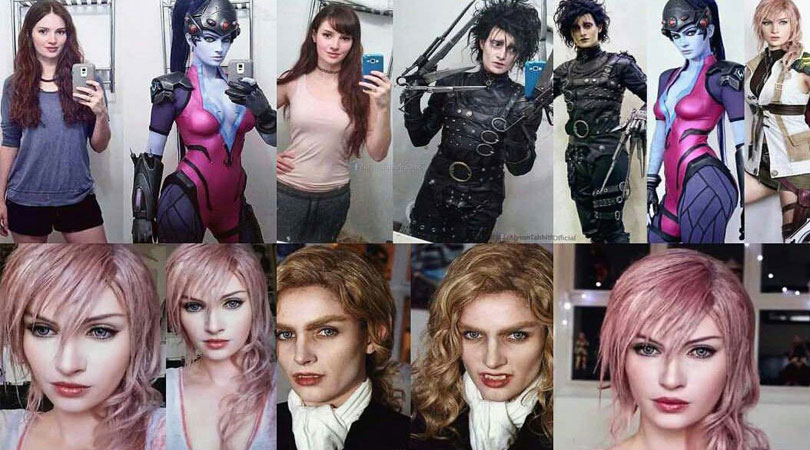 Hi ShowFans,
Cosplay makeup is not really like regular makeup. The accuracy required in the cosplay can be pretty tricky, especially for more complex characters. Let's find a fun and artistic way to portray your favourite characters!
The summary for the ultimate cosplay makeup tips is shown below, but you should also check the detail for each step.
1. Base makeup
2. Contouring
3. Eyes and Lashes
4. Lips
5. Character-Specific
6. Body Paint
7. How to keep it on all day (?)
8. Cleaning makeup
Don't worry - whether you're a cosplay makeup newbie or a seasoned pro, this guide covers all of the basics, so that your face can truly make a bold statement.
1. BASE
This is where you add foundation before any cosplay makeup products on your face. Cleanse your skin and moisturise at least 20 minutes before putting on your makeup; this allows ample time for your skin to absorb the moisturiser fully.
After putting foundation on your face, it's time to apply Concealer to your 'personal issues' (e.g. acne, dark spots). Try to also set your skin after this step with a setting spray.
2. CONTOURING
Contouring is a technique to sculpt your face so that it highlights the 'good parts'. It's time to add definition using contour and highlight. Use powder in a few shades under skin-tone, but cream contour is a great option as well.
Determine the look your character needs to portray. Feminine-shaped faces contour differently from Masculine-shaped faces, and vice versa.
Blush colours are highly dependent on the character and their hair colour. Are they light and bubbly? Maybe a bubblegum pink. Do they have fire engine red hair? An orange / bronze might be perfect.
This is a place to experiment and find how you want to portray your character. This includes highlighting.
3. EYES AND LASHES
Next are your eyes and lashes. Eyes give you the ability to play around with techniques to get the look and feel of your character. Keep the lid light, the crease dark, and highlight your brow bone.
To make your eyes look bigger, either use a white or your skin-tone colour eyeliner on your lower waterline (the area closest to your eye) and contour your lower lid to give that eye effect.
Masculine eyebrows are usually much more blocky and thick. If not straight across, they have a sharp angle. Feminine eyebrows run the gambit of size and shape; and changing the shape of your eyebrows will change the framing of your face.
Lashes are the cherry on top of a good eye look. Look at your cosplay character, what kind of lashes do they have? Big and sultry, or round and cute? There are so many options for lashes, and they all do something different.
4. LIPS
Your mouth is important, even when doing masculine looks. Lip colour makes sure you can see your mouth in photos.
For natural 'no makeup' looks, choose a slightly darker shade than your skin tone; taupe for masculine looks, and peach or pink for feminine looks. Even purples give amazing definition and classic reds are classic for a reason. Don't shy away from colour!
For over-lining the lips, use a slightly darker than natural shade to give the allusion of shadow. Play with the shape to get the perfect pout for your character.
For lipstick, use a liquid lipstick that has staying power; excellent options in a range of colours. Regular lipstick smudges and can bleed, but is more comfortable to wear. Remember to treat your lips the same way you treat your skin.
5. CHARACTER-SPECIFIC
This is the process of adding extra touches on your appearance for the character. Do they have freckles, a tattoo, a scar? What are the features on their face that makes them the most recognizable?
For freckles, there is a nifty trick which is to take liner and dot a few freckles on the cheek, in a small area and in a random pattern. Then use your finger to tap the new freckles all over your cheeks.
The effect looks more natural than drawing each dot on. Practice on your hand before trying it on your face; if it starts to look like the freckles on a banana then you're on the right track.
Simple scars can be done with cream eyeliner or a pencil. The trick with scars is to go slow. Map out your scar with a natural eyeshadow before drawing on the line to contour the area and to act like a guide.
Drawing tattoos can be tricky especially if they have words. Remember the word will be mirrored and you will be writing it backwards, so it is best to look at the tattoo in shapes not as the word itself.
6. BODY PAINT
First you need to pick your material. For body paint I always suggest beginners start with a water-based face paint. As you get better at body painting, an airbrush can cut your painting time in half, but it is very hard to do by yourself. For water-based paint, be careful when eating and drinking. Straws are a must!
For something like Ms. Argentina from Beetlejuice, she is a greenish teal colour. So I used a base of teal body paint, a dark blue to contour, and a grassy green to highlight. For something like Barley from Onward, I added a little pink to his cheeks and the tips of his ears.
7. KEEP THE MAKEUP ON ALL DAY
Don't let the con take your cosplay makeup down! Do what you can to give your look a fighting chance. The best chance for success is practice; do a costest before going to the con to make sure you like how you look. Planning your makeup procedure in advance will make your morning of the con so much easier.
Wear it for a couple hours inside your home and see where your makeup is creasing, anticipate what you will need on con day. Do your eyes water and you think you should bring makeup wipes and your eyeliner for touch ups? Is your skin oily? Would powder and blotting papers be better for you? Better to find out before a convention than during one.
8. CLEANING MAKEUP
It's 10 p.m. and the con floor has been closed for hours and your after-hours panel is finally coming to a close. You and your friends head back up to your room and it is finally time to clean the day, and your makeup, off.
The number one tip for makeup removal is to double cleanse. Use makeup wipes to get the first layer, and follow up with facial cleanser and water. Remember to moisturise after cleansing. For water based body paint, never fear, a shower and a good body scrub is all you need.
Cosplay makeup brings the finishing touches to your look, and your character to life. Just like prop making, sewing, or photo editing; cosplay makeup is an important part of the process that comes with practice and experimenting. Remember to give yourself plenty of time, use reference photos, and plan ahead!
***
Please check the other cosplay contents in MYSHOWTIME to find your favorites!
Download and collect them to have exclusive and quality contents.
***
JOIN AS PREMIUM MEMBER
for more benefits!