Perform Scary and Cute, Only at SHOWTIME SpookFest 2021!
11 October 2021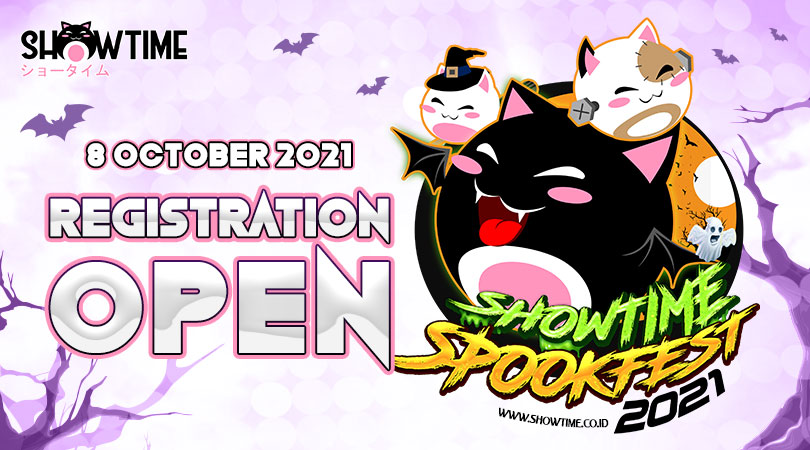 Choose Your Favorite Content, The Scariest or The Cutest?
The hype of the biggest virtual cosplay competition in Indonesia might be slowed down, but the creativity of the talented content creators to have more competition is unstoppable! SHOWTIME is back again with a new 'scary-and-cute' theme event, called SHOWTIME SPOOKFEST 2021!
Dare to join? Let's take a look at the details of the event below.
SHOWTIME SPOOKFEST 2021
SHOWTIME SpookFest is another content poll event with a Halloween theme that would be available through the portal. But, the poll results will only give a 70% of the total points, since it will also be accumulated with the Judge's Assessment (30%) to determine the winners of the event.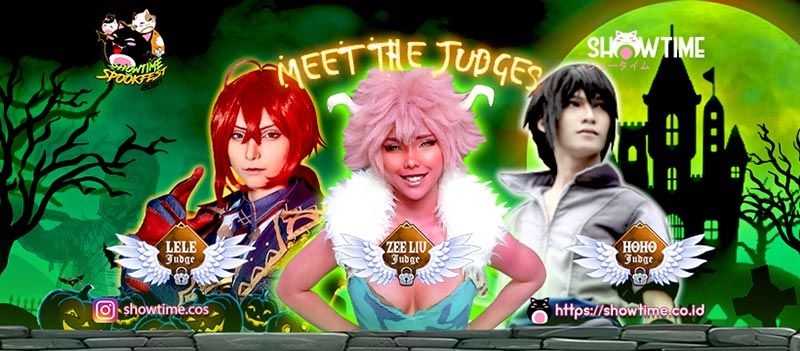 The judges appointed were LE LE COS, the 1st winner of the general category at the SHOWTIME Cosplay Awards 2021, ANGGORO DWI, the judge's favorite, and Zee Liu (representative of PT. 8 Elements).
The registration phase will open on October 8th, 2021. After that, all participants must comply with a different minimum quota of votes in every phase, in order to advance in the next phase, before reaching the final round on November 8th, 2021.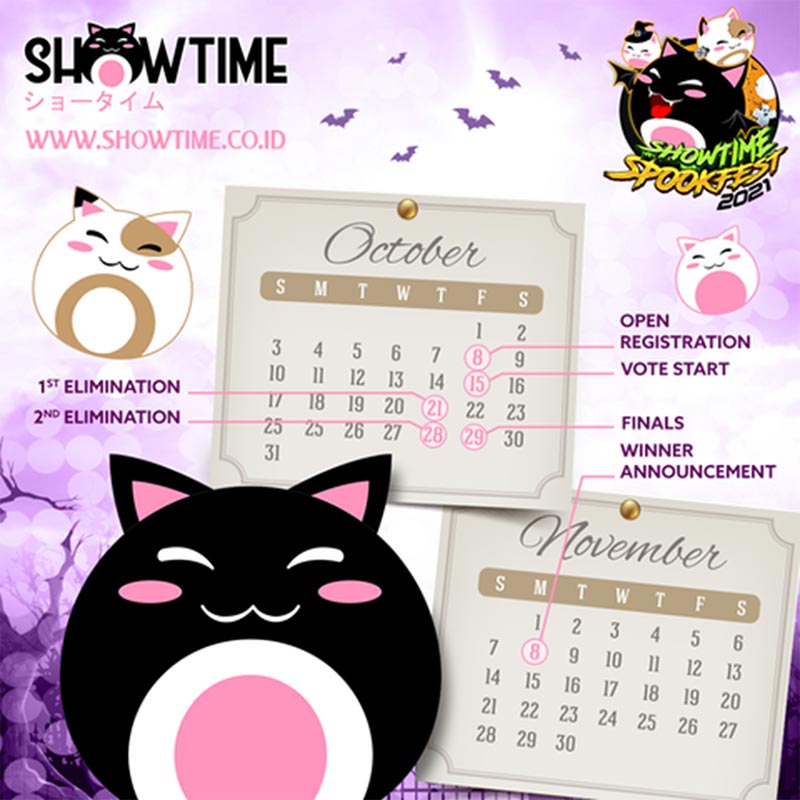 OPEN REGISTRATION : 8 October 2021
Vote starts : 15 October 2021
1st Elimination Round : 21 October 2021
==> minimum 50 votes
2nd Elimination Round : 28 October 2021
==> minimum 80 votes
FINAL ROUND : 29 October 2021
Winner Announcement : 8 November 2021
------------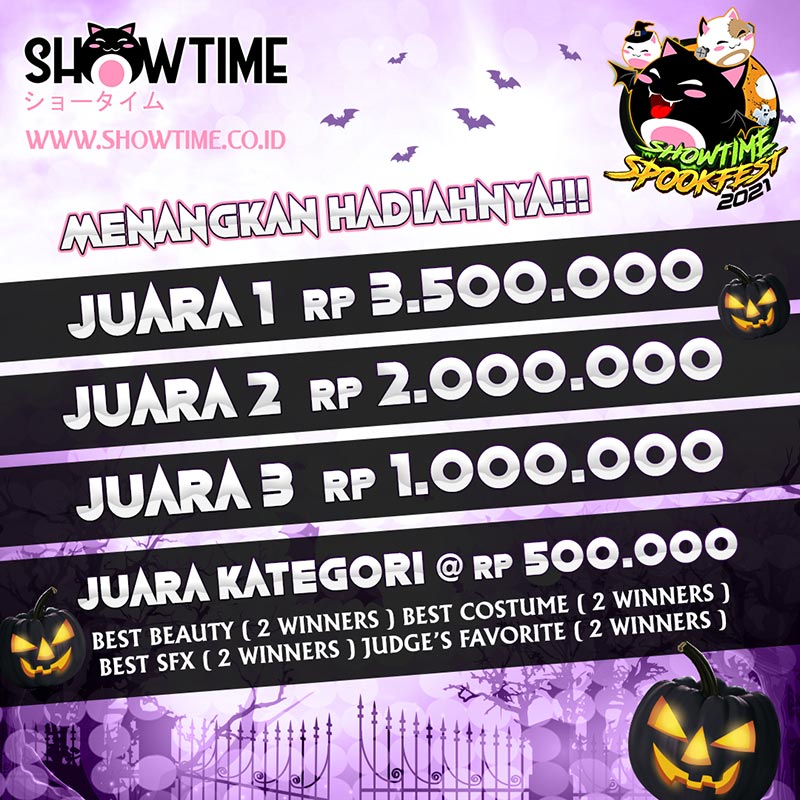 PRIZE
The participants with the best votes and scores are entitled to:
- 1st Winner : Rp.3.500.000
- 2nd Winner : Rp.2.000.000
- 3rd Winner : Rp.1.000.000
In addition to the prize winners above, there are still 4 other categories that are contested; Best Beauty, Best SFX, Best Costume, and Judge's Favorite. Two winners from each of those categories will receive a cash prize of IDR 500,000.
HOW TO REGISTER & UPLOAD CONTENT
1. For those of you who are already registered on the SHOWTIME community portal, you can directly login and fill out the registration form via the Profile menu > 'My Competition'.
2. New users can use the registration option by Email, or Facebook.
3. After successful registration, on the profile page, participants must include 7 recent photo content; includes thumbnail (9:16 ratio), photo banner (16:9), and 5 supporting contents (Showcase).
4. Participants are also required to upload a video to be contested in Landscape format (16:9 ratio), a maximum duration of 10 seconds and no more than 100mb (MP4).
5. Please follow the predefined uploading rules.
6. Voters can provide support by 'VOTE NOW' on their respective favorite cosplayers' pages.
7. There are several choices of denominations that Voters can choose to support their chosen participants.
8. The choice of demons also has a variety of payment methods that you usually use. The bigger the denomination you choose, the bigger the benefits you get.
If you have questions regarding the rules and other matters regarding the SHOWTIME SpookFest 2021, you can ask questions via the SHOWTIME Official Fanpage, Instagram, and Showtime's official social media accounts.
------
About Showtime
SHOWTIME is a one-stop entertainment platform and newest business unit of PT. 8 Elements as unifying forum for the cosplay and anime communities to share new and exciting creative contents with their fans.
In the SHOWTIME online media portal, visitors participate in various activities about anime and cosplay, along with other interesting features such as artist profiles, video interviews, rankings, contest voting, and much more!
Showtime opens opportunities for collaboration with various parties to hold events and programs in related fields. The latest project is an online cosplay competition with the title SHOWTIME Cosplay Awards 2021!
About 8elements
8elements is a highly experienced digital content provider and mobile game publisher in the Asia Pacific region, specifically with regards to localized products and services for gamers in Southeast Asia.
As a trusted regional company, 8elements offers high-quality games as well as applications and digital content via the Play / App Store through collaboration with mobile network operators, news portals, online sites, and game accessories companies. 8elements has collaborated with Disney, Animonsta BoBoiBoy, Little Giantz Nussa, and Telkomsel DuniaGames; as well as other well-known products and brands.
Founded in 2003 by Joerg Tente, 8elements is a privately held company based in Hong Kong and Jakarta. Armed with the experience and dedication of the team for more than 10 years, PT. 8 Elements in Jakarta is now designated as the company's operational center.