[GOCpay] Beli Diamonds Pakai OVO, Dapat Cashback!
24 September 2020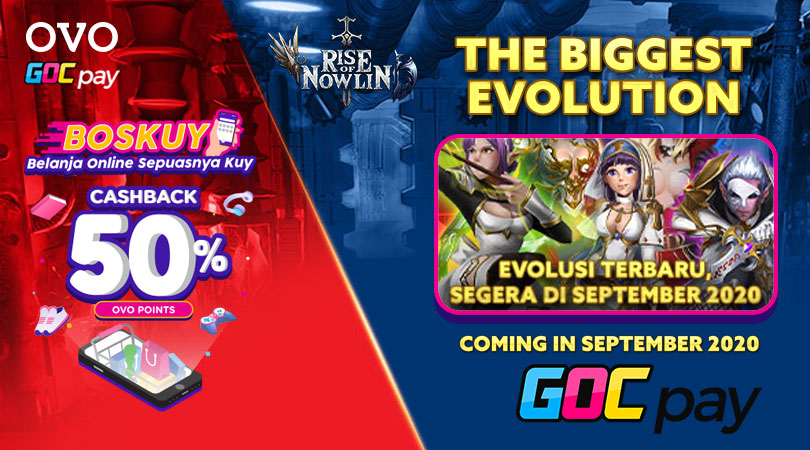 Ada kabar baik lagi nih buat para player di Rise of Nowlin! Bukan cuma ekspansi baru tapi kamu bakalan bisa beli Diamonds dengan lebih murah loh!
Caranya gampang, kamu cukup melakukan pembeliang Diamonds (via PNP) menggunakan payment GOCpay OVO.
SOS SEPTEMBER
23 September - 7 Oktober 2020
**Top-up Gunakan OVO dan Dapatkan CASHBACK 50%**
Syarat & Ketentuan:
1. Cashback berupa OVO Points (1 OVO Point = Rp1,-)
2. Cashback akan dikirim selambatnya 2 x 24 jam
3. Cashback 50% dengan maksimal 5.000,-/transaksi OVO Points
4. Maksimal batas OVO Points yang diterima 5.000,- per transaksi / periode / pengguna dengan minimal transaksi Rp10.000,- dan berlaku untuk semua mitra yang tergabung dalam GOCpay.
5. GOCpay dan OVO berhak membatalkan OVO Points yang telah diberikan apabila ditemukan kecurangan dalam pelaksanaan promosi ini.
6. GOCpay dan OVO tidak bertanggung jawab atas proses refund. Bila terjadi, maka refund menjadi tanggung jawab sepenuhnya oleh merchant masing-masing.
Gunakan OVO dan Jadilah Lebih Kuat di Rise of Nowlin!