New Server: GREENLAND, A Journey into the Wilderness!
13 Mei 2020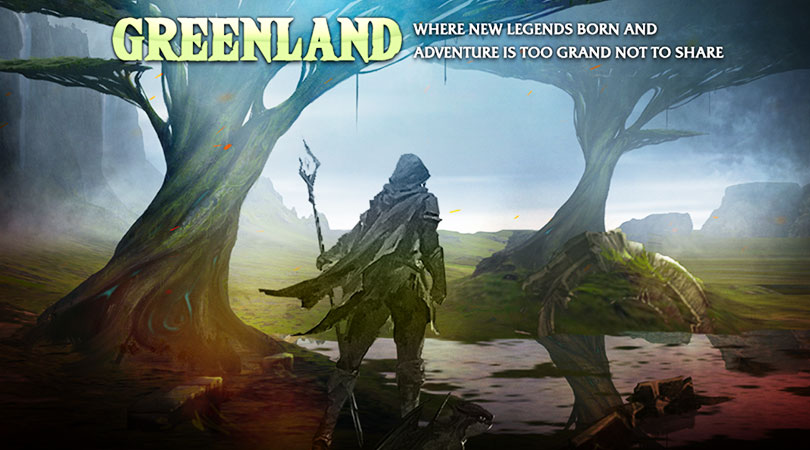 Get ready for a brand new and fresh journey into the wilderness, brave Legends!
We are offering you an opportunity to take on some new challenges in a more balanced environment, where you will have to seek a power greater than before. Bring along your friends and form an even stronger alliance to take down your opposite faction in a never-ending war between Light versus Dark, in the new server, GREENLAND!
Rise of Nowlin, as the new Open World MMORPG that was intended for hardcore gamers, had grown so much bigger since our first Alpha Test in August, last year. The early version was released simultaneously in three countries (Malaysia, Singapore, Philippines). It was expanding to other countries in the SEA region, including Indonesia, which published by Dunia Games, early this year.
Now, the game has two active and global servers with so many gamers from different countries. Thanks to our #RiseCommunity, the player base in Rise of Nowlin has been growing rapidly. We want to give every player a chance to have the same gaming experience with various new content and some other adjustments.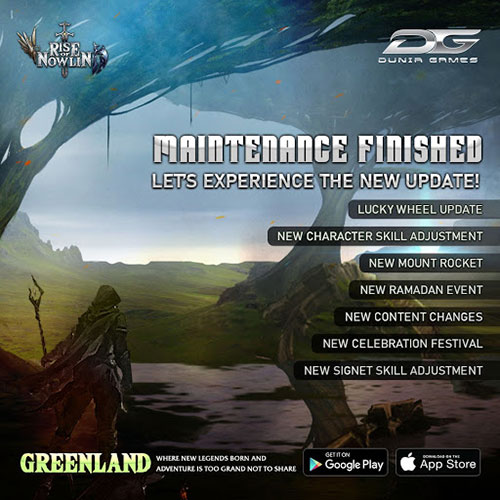 So, we are going to launch a new server, called GREENLAND, on 15 May 2020 (after maintenance ends). This server is meant for all new players in Rise of Nowlin to experience a fresh start. Meantime, the rest of the players can still play in the previous servers, Middle East and Old Norse.
To celebrate the opening of the new server GREENLAND, we have arranged some updates and events that will run throughout the month. Please check out the details below!
NEW SERVER EXCLUSIVE GIFT
We have some exclusive gifts to all players who join the new server GREENLAND! Just login into the game for five days straight to receive these rewards:
15 MAY 2020 - 100 pieces of Div Gem-G and 500 PDO
16 May 2020 - 100 pieces of C-Refining Stones and 1,000 PDO
17 MAY 2020 - 3 pieces of Bag Expanders and 1,500 PDO
18 MAY 2020 - 10 pieces of Triple Exp Card and 2,000 PDO
19 MAY 2020 - 1 piece of Cowboy costume (permanent) and 2,000 PDO
The rewards will be given to all Legends every day at 2 PM (GMT+7). Go login every day and claim your rewards!
RAMADAN CELEBRATION FESTIVAL
Our celebration festival returns! Like any other celeb festival before, there are three kinds of events that will be available for you with so many interesting rewards.
1. Special Daily Login; a free daily gift for a week period (15 - 21 May 2020), which gives Random D-Gems and Book Camp Switch.
2. New Bonus Mission; some challenges for Legends to get 3 (three) Random Gem X and 300 pieces of C Fodder. Check out the missions!
- Level of character is minimum Level 70
- Killing Pharaoh Mummy for 1,505 times
- Killing Ogre Chef for 1,505 times
- Killing Wise Robot for 1,505 times
- Minimum Top-Up of $4.99
- Collect Tilapia for 1,505 pieces
- Collect Devil Stone for 1,505 pieces
- Collect Drifter for 1,505 pieces
- Collect Pardon Stone for 10 pieces
3. Discount Items (timed-event); all prices for items available in this event will be cut off 50%, only in the selected periods.

For example: if you ever need Adventure Voucher, then login between 9 am till 2 pm (GMT+7), and go to Promotion Tab to buy it for the amount of 100 Diamonds (original price is 200 Dias). But, there is a limit for every item to buy each period. The second period of time is between 3 pm till 5 pm (GMT+7), and last period from 6 pm till 9 pm (GMT+7).
KETUPAT PARTY
Another event to celebrate the Ramadan moment in this month is a KETUPAT PARTY. In this event, you will be able to collect KETUPAT as many as you can from any activities inside the game. After the event period ends, you can exchange all the KETUPAT with some rewarding items.
ROCKET MOUNT
New rare mount in LUCKY WHEEL! After Kirin, Fenrir, and the last one is Dutch, we will set a new chance for you to get our latest and rare mount available in Rise of Nowlin. It's your time to ride a cool and unique Rocket Mount!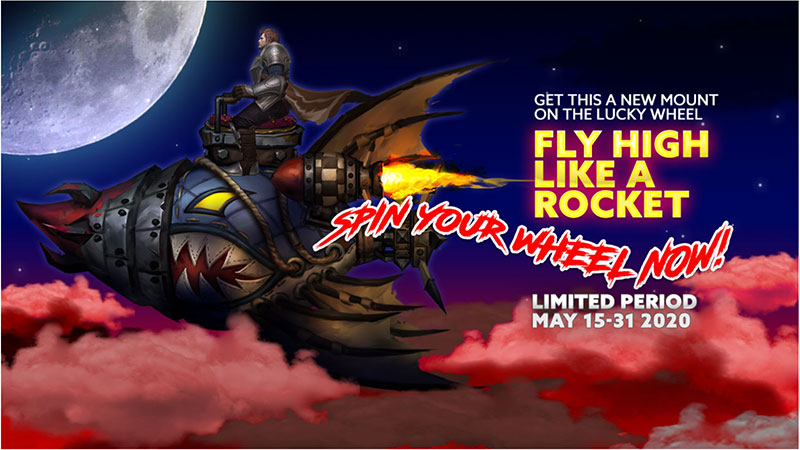 SPIN NOW & BE LUCKY WITH THE COOLEST ROCKET IN RISE OF NOWLIN!
IN-GAME CHANGES
- Guild War; there are changes regarding the revive cost and the event duration
- Pantos Astrolabe; have a duration cooldown of 5 minutes.
- Sky Trial & Nowlin Trial; will be fixed and run normally now.
- HP & Mana Potion; the value for each Potion will be increased according to the level.
- Status Name; fixed the inconsistency of stat names (AGI > DEX, VITA > VIT, ACC > AIM).
- Night Celebration Event; change the duration to 5 minutes only.
- LVD; the duration event is 60 minutes / 1 hour and minimum requirement of level 50.
- Subversion & Intelligence; the duration event is 60 minutes / 1 hour.
- Slayer; requirement to obtain the buff is 10 minutes, and duration time 30 minutes.
- Daily / World Quiz; the duration event is 30 minutes.
- Tracker; back to its original duration, 5 minutes / 300 seconds cooldown.
- New rewards; from the top-up promotion (in-game), including Accumulation Top-Up, First Buy, Weekly Packages, Daily Collection Points, Gift Bonus, and Cumulative Consumption.
- And, all other changes regarding map name location, text overlapping, User Interface, etc.
-------------
CHARACTER & SIGNET SKILL ADJUSTMENTS
Some of the Signets in the game will be affected by new adjustments, which include:
- TIME; the cooldown skill is now 40 seconds (Level 1) to 8 seconds (Level 9).
- SHIELD; the larger radius of area impact to 5 meters and the amount of enemies HP affected by the skill is increased (3% - 20%) of their maximum HP.
- SILENCE; the effect duration is now only last for 3 seconds (before it was 5 seconds).
There are also some big changes in Character Skills, especially for Mages. Here is the explanation: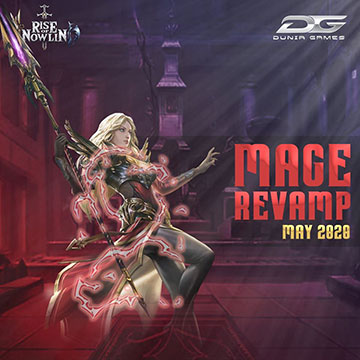 1. MAGE
- Shield; the damage absorbed is increased to the amount of 100,215 (previously was 8866).
- Ice Thorn; a larger area impact of 6 meters (from 4 meters) and bigger damage (1913 > 2033). The freeze effect will last 3 seconds (before is 2 seconds) and cooldown to 15 secs.
- Dawn Flame; the ignition effect will last 5 seconds now (before 4 seconds), while the duration is also increased to 8 seconds only (previously 12 seconds).
- Ember Hit; will have a larger area impact of 10 meters (from 5 meters) and caused 1,005 magic damage (before 546 magic damage).
- Hot Sphere; change the cooldown of the skill to 3 seconds (from 6 seconds).
2. ARCHER
- Phantom Chain; the lock effect duration from this skill is only 3 seconds (before 4 seconds). The area radius is also reduced to 6 meters (from 8 meters). But, skill resets in 15 seconds.
- Ghost Steps; now will have a 54% movement speed effect (before 42%) and 24% of dodge (from 21%).
- Arrow Rain; the area-wide of this skill is increased to 14 meters * 5 meters (from 12 * 4 meters), and also reduced its cooldown to 12 seconds only (before 16 seconds)
- Reinforced; the slow effect from this skill will last to 2 seconds (before 3 seconds) and reduced the skill cooldown to 8 seconds.
3. ASSASSIN
- Blood Thirsty; the cooldown of this skill will be expanded to 65 seconds (before 25 seconds).
-------------
TOP-UP PROMOTION EVENTS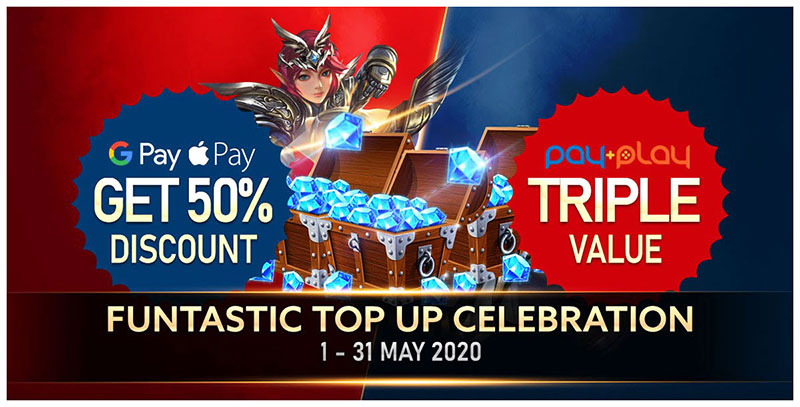 FULL DETAILS HERE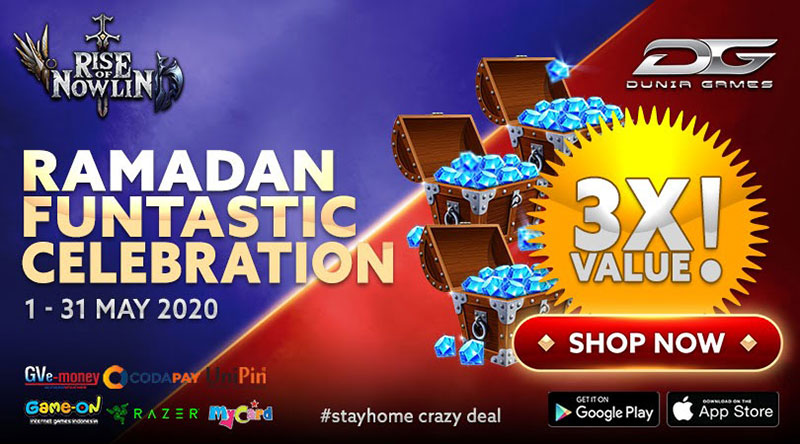 FULL DETAILS HERE