Meet Larissa Rochefort, A Beautiful Multi-Talented Influencer
05 Mei 2020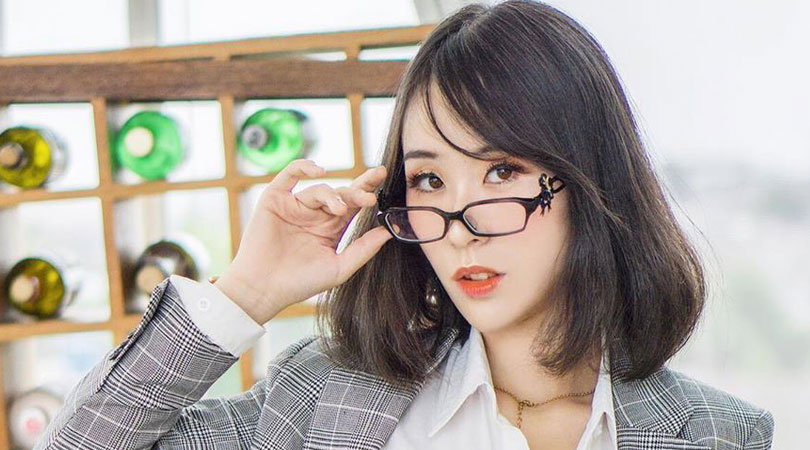 Who does not know Larissa Rochefort? Her appearance in cosplayer communities and her influence in Esport industries are so impactful. Larissa started her Esport career with the NXL team, but in reality, this beautiful girl has been enjoying games since she was still in elementary school. She played on Gameboy micro, games like Harvest Moon and Pokemon Fire Red. Little Rissa also often borrowed her father's computer to play the Megaman series.
Rissa, the name that all of her friends called her, only knew Esport when she joined the NXL Team. At first, she claimed not to know much about Esports, even the Esports organization that she joins in. Her passion for playing many of the most popular online games is what brought her to meet with the NXL Team, and her name in the gaming world is increasingly known. Well, do you want to check out her complete profile, facts, and some of her photos? Let's take a look!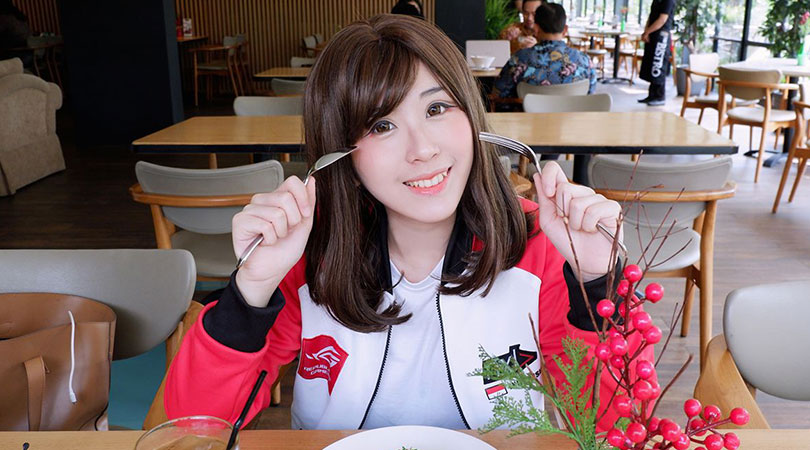 BIOGRAPHY OF LARISSA ROCHEFORT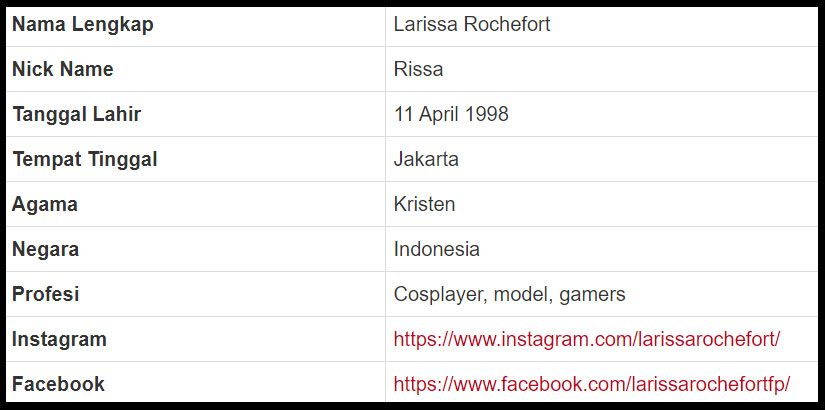 You would probably just know her by the name of Larissa Rochefort, but the name was a combination of her real first name (Larissa) and a name taken from one of her idol characters in Tekken game, Emilie Lili de Rochefort. She has been using that last name since 5th grade in Elementary School, which is the first time she was introduced to the Tekken game by her friend.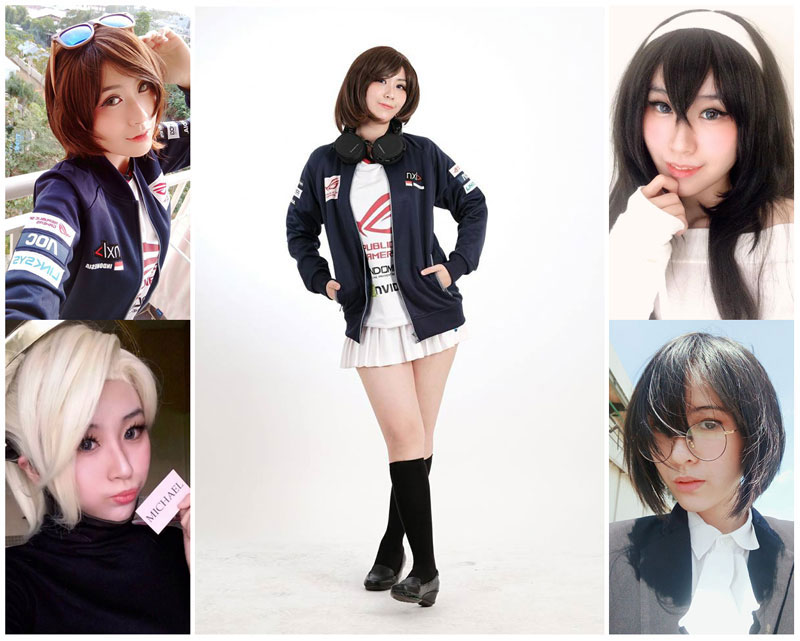 Improve the Quality of Esports in Indonesia
While working as the Team Manager (as well as an influencer) in April 2017, Larissa Rochefort only needed 4 months to convince NXL Team to appoint her as the official Brand Ambassador for one of the largest and most successful eSports teams in Indonesia. The organization that was formed by Richard 'frgd [ibtJ]' Permana since 12 years ago.
However, the student majoring in hospitality and tourism at Bunda Mulia University prefers to be called an influencer. She believed that it can encompass the various roles that she is currently involved in, including as a Professional Cosplayer who has been in action since 2016. In the world of cosplay, with Risacchi nickname, she is very identical with her role as YoRHa No.2 Model B (2B) from the game Nier: Automata, with almost perfect similarity.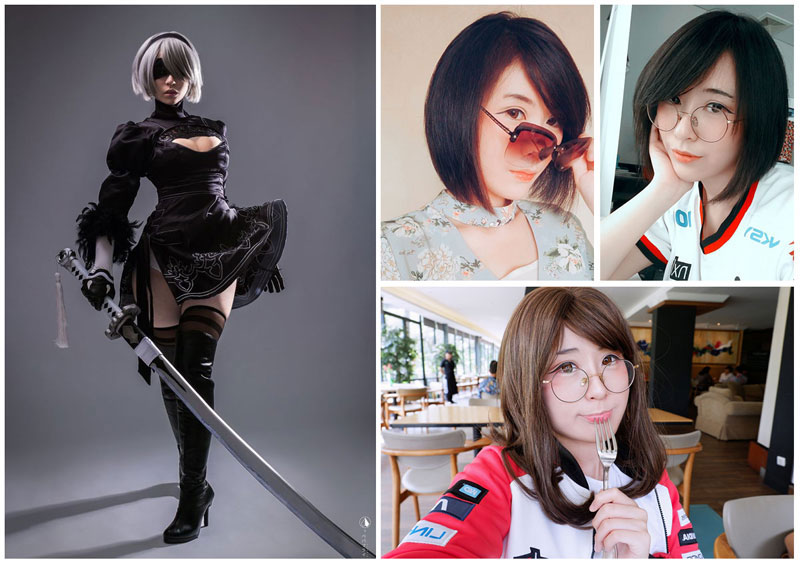 From Drawing Hobby to Become Cosplayer
The beautiful gamer who likes to play PUBG Mobile and Resident Evil 6 turned out to have many hidden talents. One of them is drawing as her hobby since she was a child. In her past time when she was still in kindergarten, Rissa claimed to often buy anime magazines and comics. Then, Larissa began to draw characters from the anime comics that she bought.
As she becomes older and her drawing skills were honed, Larissa Rochefort admitted that she was not satisfied if only draws characters. So, Larissa tried to make the characters that she drew into a cosplay costume. In 2016, she began to focus on cosplayer career until now. It was said that she had created more than 50 cosplay costumes from various characters. Cool, right?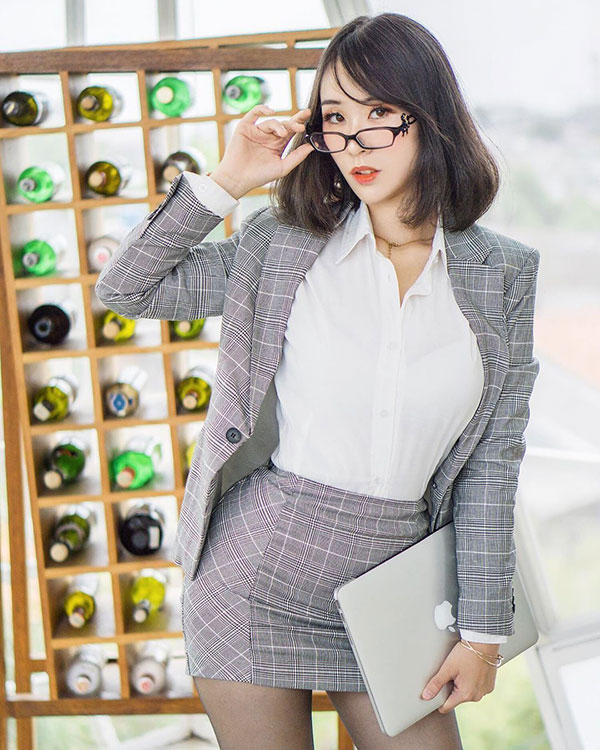 Fluent in Playing Violin Instruments
One other talent that you should know is that Larissa can also play the violin! Since childhood, she was introduced to the violin and several times invited to watch orchestra performances by her parents. Some posts on YouTube and Instagram show her expertise in playing the violin. Beautiful, sexy, gamers, good at drawing, and fluent in playing music too! Complete package!
See for yourself!