Top 10 Mobile Games That Shocked the World!
14 Februari 2020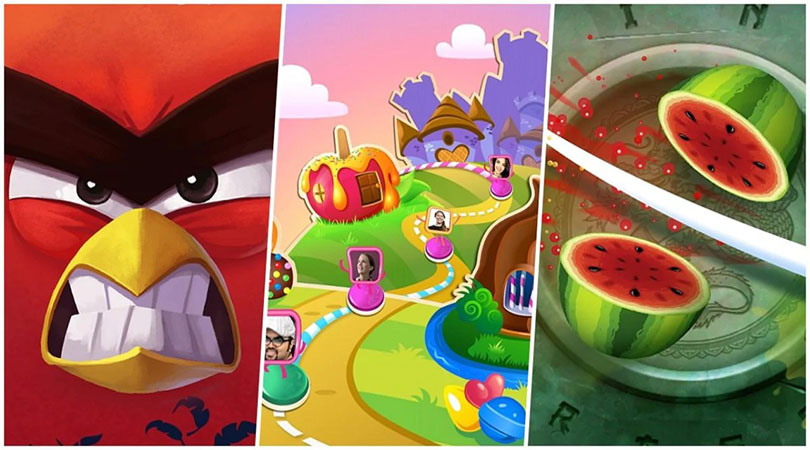 Some of the Biggest Mobile Games of the Past Decade!
Everything has been changed since the birth of the first iPhone in 2007. The era of modern smartphones is rising and now becomes part of everyone's lives. This immediately impacts the mobile game industry that was evolving from a simple game like Snake in your handphone into something more complex (yet fun!) such as Candy Crush Saga.
The concept further highlights the game connectivity with social media platforms. This is making the mobile game industry in the last decade so profitable with a total value of multi-billion dollars. Every big gaming companies seem to agree with the concept and begin to invest heavily in the industry by creating their mobile games. Or, in some cases, they just need to buy one from any smaller game developers.
Over the past decade, there are so many mobile game titles that had already made a mark since it was released. But, we will only put the top 10 mobile games with the most downloaded and biggest revenue (based on data analytics from App Annie). These games may not be your favorite, but you must have heard each one of the titles regardless of how many hours a day you spend gaming on your smartphone. So, here we go, check the list below! (in order of their date of publishing)
1. Angry Birds
Our list begins with a casual puzzle video game from the Finnish game developer, Rovio Entertainment. Released in 2009, Angry Birds had become one of the biggest franchises in mobile game history, with a total of 18 Angry Birds games, 7 spin-off games, plus 2 big-screen movies.
You might not find any Angry Birds game versions on App Annie's list of most downloaded or highest-grossing games for the last decade, but it is understandable since all of the franchise is available on various platforms, from mobile to PC.
2. Fruit Ninja
A year after the release of Angry Birds, Halfbrick Games (also known for Jetpack Joyride) had introduced Fruit Ninja in 2010. The Australia-based company is asking you to control a blade via their smartphone's touchscreens, slicing up falling fruits while avoiding obstacles.
Fruit Ninja becomes the ninth highest downloaded game across Android and iOS of the past decade (App Annie). It has been published on a variety of platforms that includes a version in Xbox 360 with motion control support via Kinect camera. It even goes well with VR support for the HTC Vive, Oculus Quest, and PS VR.
3. Temple Run
This is an endless runner game developed by Imangi Studios (US). Temple Run is well-known for making the runner genre of games so popular that later included the record-breaking Subway Surfers title. So far, Temple Run has already had four sequels and spin-offs. Temple Run 2 is the third most downloaded game of the decade in both App Store and Google Play.
The first spin-off was a collaboration work between Imangi Studios and Disney, which to promote a movie, Brave. Both companies were also working together to produce another spin-off for the film Oz the Great and Powerful.
4. Subway Surfers
As we already mentioned earlier, Subway Surfers is also a successful endless runner game that was developed by Danish gaming companies (Kiloo and SYBO Games). One of the pioneers of the genre, Subway Surfers make its way across mobile and desktop platforms. There are several achievements in its name, for example, to become the first game to reach 1 billion downloads on Google Play in 2018.
It didn't stop there, Subway Surfers had reached two billion downloaded games in 6 months from its initial release. On App Annie, Subway Surfers is the top mobile game in terms of downloads in the past decade, across the App Store and Google Play.
5. Candy Crush Saga
Who could ever guess that a mobile game developed by a Malta-based gaming company, King Digital Entertainment, can be so successful among other popular mobile games? Four years after it was released, Candy Crush Saga was acquired by Activision Blizzard in 2016, with a massive sum of money around $5.9 billion.
Candy Crush Saga specializes in socially-connected games that let players associate their social network accounts (mostly from Facebook), share their in-game experiences with friends, also inviting and ask them to compete with each other. The multiplatform game is number 2 on the list of most downloaded mobile games of the past decade of App Annie, and the big three in terms of consumer spend.
6. Clash of Clans
Another Finnish developer who makes a big impact on the mobile gaming industry is Supercell. This company is also responsible for making some popular franchises, for example, Brawl Stars, Clash Royale, and Hay Day. All players in Clash of Clans will be the chiefs of their villages, which they build-out in a persistent world.
Clash of Clans had already enjoyed its status as the highest-grossing game on both the App Store and Google Play for many years. Surprisingly, unlike any other mobile games in this list, CoC remains loyal to its original platform. For the record, this game is the number 5 in terms of downloads over the past decade, and still on top of the grossing games list on App Annie.
7. Hill Climb Racing
One of the physics-based racing games on our list is Hill Climb Racing. This game is developed by Fingersoft, and once again comes from Finland. Even the game is considered to have a low graphics but praised for its mechanics.
In Hill Climb Racing, you would drive a car through increasingly difficult terrains. You can also collect coins while keeping an eye on your fuel gauge. It features a top 7 of App Annie's most downloaded gamer of the past decade across Android and iOS. The original version was released in 2012, but then its sequel comes out in 2016 for iOS, Android, and also Windows 10.
8. My Talking Tom
This is a virtual pet app developed by Outfit7, a game developer from Slovenia. The initial version of this game was only a part of several Talking Tom and Friends app, and it was named Talking Tom Cat, who released in 2010.
By the year 2013, My Talking Tom was released as an individual app, followed by a web series. The app is even being made as a television series. The players in this game have to raise and nurture a cat named Tom. Another interesting feature in My Talking Tom is the cat's ability to repeat all the words spoken by its owner. For the last decade, this app already in the fourth most downloaded game according to App Annie's data.
9. Pokemon Go
This game is a phenomenon when it was first released in 2016, as one of the first to use augmented reality (AR) in a mobile game. Niantic develops Pokemon Go to encourage players to move around places and hunting some virtual Pokemon creatures. With the enormous number of fans of Pokemon in the world, this game instantly breaks some records for downloads and revenue.
Niantic, a formerly Niantic Labs who used to be an internal startup within Google, had already hit success with Ingress, another AR and location-based game. Pokemon Go currently stands as the eighth highest-earning game of the past decade as per App Annie.
10. PUBG Mobile
In the latest development of the mobile game industry, PUBG Mobile stands tall among other battle-royale genre games. Developed by one the biggest gaming company in the world, Tencent Games, this game quickly reaches to the top since it was first released in 2018. Unlike other games in this list, PUBG comes from a PC game (PlayerUnknown's Battlegrounds), which is now also available on console platforms.
Because of that reason, it is understandable if PUBG Mobile won't be on App Annie's most downloaded or highest-grossing games of the decade. But, its popularity is undeniable already gained so many gamers in the world. Even in some countries, this game is considered too massive and also causing a 'game addiction' to society, especially for youth people. The main concept is as simple as staying the last survival in various challenging maps by eliminating players one at a time.
There you go, a list of top 10 mobile games that have the biggest impact in the industry for the past decade! The truth is there are more mobile games worth playing other the ones from the list above.
Honorable Mentions:
Modern Combat, The Series (2009) - A first-person shooter with realistic graphics.
Flappy Bird (2013) - High difficulty, addictive gameplay, and one-man developer origins.
Monument Valley (2014) - A puzzle game with beautiful, minimalistic graphics.
Infinity Blade (2016) - Set the benchmark for graphics on mobile.
The Honour of Kings or Arena of Valor (2017) - A multiplayer online battle arena game for the mobile.
Fortnite (2018) - A battle royale game with PC and console origins.
Call of Duty Mobile (2019) - Another battle royale game, but part of the longstanding CoD franchise.
So Twigster, which one is your favorite mobile game? Could you ever imagine what kind of mobile games that would be developed in the next ten years? It must be interesting to see how it will become!