Rise of Nowlin is Opening New Server, ENDLESS RUINS!
23 Januari 2020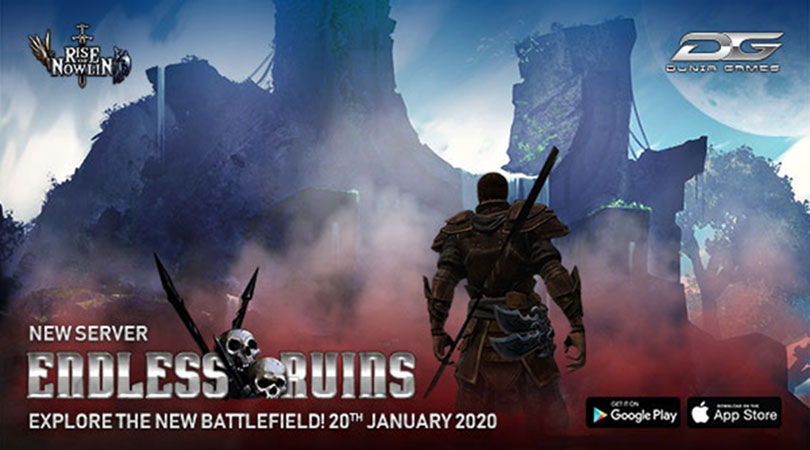 Join Endless Adventures in RISE OF NOWLIN – Like No Other Mobile MMORPGs!
#EndlessAdventures #NewServer #RiseofNowlin #ClaimYourDestiny
Ever got bored playing MMORPGs? Well, you will never feel that again in the never ending adventure of Rise of Nowlin by Dunia Games! After its launch success in the first three countries (Malaysia, Philippines and Singapore) at the end of 2019, the new Open World MMORPG is officially live now in four other countries in the region!
There is surely a fierce competition among mobile games from so many popular genres nowadays, but Rise of Nowlin remains faithful to and wins in the classic MMORPG category. The desire to reminisce and brings back the glorious era of this long-missed type of adventures has encouraged Dunia Games to present Rise of Nowlin for all mobile game lovers in Southeast Asia.
"We are optimistic that Rise of Nowlin will fit in the hearts of Indonesian gamers, especially for hardcore players. The features of this game seem endless, and there is always something you can do inside the game," said the representative of Rise of Nowlin - Dunia Games. "We believe that there are not many choices of MMORPG titles with the same quality as this game. So, I would say that you will feel regret not playing this game!"
In addition, Dunia Games is officially announcing the launch of a new server, ENDLESS RUINS, that will unite all the Legends (players in Rise of Nowlin) from previous servers with many new players in Indonesia, Myanmar, Cambodia and Vietnam. This server obviously will provide an equal opportunity for all players to prove themselves as worthy Legends, whose destiny will be engraved in the history of Rise of Nowlin!

Rise of Nowlin will not only be offering the flexibility of an Open World MMORPG, but it is also wrapped with a compelling story in line with your choice of character classes to play with. Based on classic warfare in medieval Europe, the fantasy world of Nowlin really wants to restore the glory of this genre with a variety of challenging Dungeons, eye-catching Mounts and Costume collections and massive epic battles between two factions (Light versus Dark Legion).