Soul Spira, A New Rising RPG from Indonesian Developer
20 Januari 2020
A Promising Start for Indonesian Gaming Development in 2020!
This year looks promising for the development of the Indonesian gaming industry, especially for local game developers. A few days ago, we already heard about the Open Beta phase schedule from Lokapala, a local MOBA, this month. Now, another good news is about Soul Spira: Rise of the Scarlet Knight, a mobile game debut from VanTrails Games that will also be released in the year 2020.
Besides announcing their game debut, VanTrails Games is also releasing the latest video trailer. Based on the video, it is obvious that Soul Spira brings quite interesting gameplay with many amazing features. It's not inferior to any RPG games out there.
The storyline is based on the life of Vel Crestal, as the main character in Soul Spira. She is on a journey to find and rescue the person she loved the most, which had already been missing for a long time ago. Only with her true own strength, she would be able to finish the journey.
Soul Spira: Rise of the Scarlet Knight was created as a 2D Action RPG that gives more flexibility to the characters' movement and their attacks. It means that all players should always consider their next move by anticipating the enemy attacks.
This game also has so many characters to choose and collect inside the game. All characters will have each own unique set-skills and also different roles between them.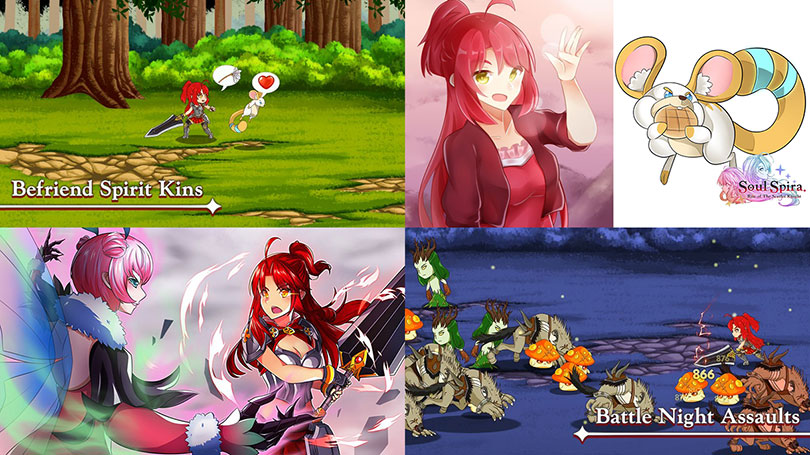 There are some cool and interesting features on Soul Spira; such as Pet System that could help you along your journey. The pets are called Spirit Kin, who comes out from a defeated monster. A player must be able to tame this Kin and bound with them before they are willing to join you as a pet.
VanTrails Games is also collaborating with a well-known Anising Coverist, named djalto, to make an original soundtrack for the game. Before this, VanTrails Games is focusing only on making casual games. Their first two game titles are Bakso Rush and Jungle Fellow.
Unfortunately, the company still refuses to give the actual date for the game to be launched. But, it is said to be playable this year! So, Twigster, will you try Soul Spira when released later?